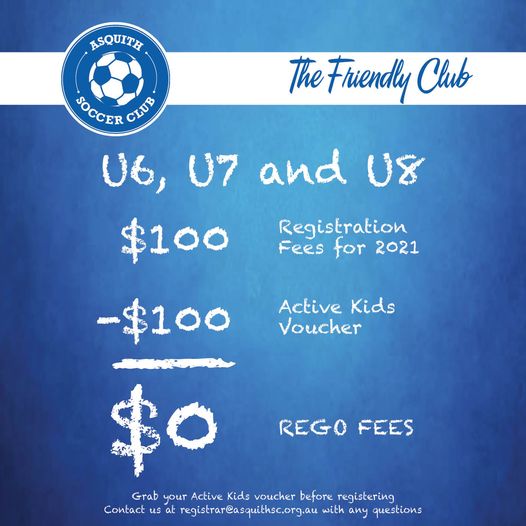 U6, U7 & U8 – ZERO TO PAY WHEN YOU USE YOUR ACTIVE KIDS VOUCHER
Asquith Soccer Club is committed to giving more young girls and boys the opportunity to play football by maintaining low registration fees again in 2021.
Registration for U6, U7 and U8 girls and boys is ONLY $100. And by simply claiming the NSW Government's Active Kids Rebate, then entering your voucher number when registering at
www.playfootball.com.au
, registration fees are paid!
This is a great way to get your children active and involved in a winter sport without impacting the family budget.
And, if your child is transitioning from preschool to kindergarten in 2021, this is a great opportunity for them to stay in contact with their friends going to different schools this year. Organise a group of friends to join a team together and email
[email protected]
or
[email protected]
with the details.
If you have any questions, please contact
[email protected]
or
[email protected]
.  Alternatively, come see us in Hornsby Mall on Saturday 30th January or drop in at our Information Day on Saturday 6th February 2020 from 11am at Asquith Bowling Club.
We continue to help our young juniors discover the joy of playing our sport, by keeping all of our registration fees as low as possible.